Carl Briggs joins Moxey NOLA as Business Development Manager
Dec 6, 2021
by Aimee Supp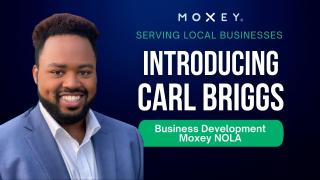 We are pleased to announce that Carl Briggs Jr. has joined Moxey as our new Business Development Manager in Moxey NOLA.
Carl will be based in Louisiana and will be an integral part of our team as we continue to expand our presence in the Greater New Orleans area.
"We couldn't be more excited for Carl to bring his enthusiasm and customer service ethic to the Moxey team," said
John Roberts
, partner in Moxey NOLA.
Carl Briggs, Jr. is an intelligent, ambitious, and innovative recent graduate from Tulane University's A.B. Freeman School of Business.
There, he earned his Bachelor's of Science in Management and Entrepreneurship Specialization.
As business development manager, Carl will develop a regional strategy and support initiatives for client management and acquisition in New Orleans, Metairie and Kenner.
Having worked and lived in New Orleans for 5 years,
Carl is passionate about community development projects that support the local economy, specifically the revitalization and support of locally owned businesses.
Carl has served on the executive board of Mobilizing Millennials, a community activist group based out of New Orleans, and has done much outreach work within the Greater New Orleans area. He is a multifaceted internationally published playwright, award winning actor, and an innovative and energetic problem solver.
Briggs added, "My first few weeks at Moxey have been fantastic!
Moxey's team of dedicated and talented leaders have taken helping their local economies to a new level. I feel inspired by Moxey's commitment to the business owners we serve and impressed by the communities that have been developed over the past 20 years. I look forward to making a difference in Greater New Orleans for the local business owners. It's great to be on board!"
Local business owners interested in increasing their customers, improving their cash flow and can contact Carl for more information at 985-474-9624 or Carl@MoxeyUSA.com.