[Press Release] Moxey Equity Campaign Exceeds 415K Today
Apr 6, 2021
by Aimee Supp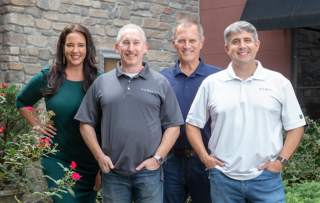 Newly Launched Moxey Equity Campaign Exceeds $415,000 Today
Ranked in Top 20 Nationally on WeFunder Platform
Moxey Became the First Louisiana Company to Raise Money Under
New SEC Regulations for Individual Investors
Baton Rouge, LA – Small business owners and investors in Louisiana have quickly taken advantage of the new SEC regulations allowing individuals the ability to directly invest in businesses they care about.
SEC laws were recently modified March 15, 2021 to give additional advantages for small investments in local economies. Equity crowdfunding has ignited activity among those previously excluded from the market and has changed working capital strategies. For companies who value relationships in local communities, like Moxey, expanding across the southeastern coastal states, this strategy is proving lucrative at a surprising pace in less than four weeks.
Louisiana based Moxey, is the first company in the state to jump on this new opportunity for companies seeking investors. Moxey was selected by one of the largest portals in the country, WeFunder, as the platform for its crowdfunding investors.
Today, Moxey's President and CEO Charlie Davis announced that Moxey has reached Top 20 status on the WeFunder platform. "We blew way through our original projected investment goals the first week,"
said Davis, adding "We didn't know how fast this investment and expansion was going to go. During the first 24 hours, over $175,000 was invested in increments as modest as $100, and then others up to $100,000." Local individual and community investments already exceed $415,000 toward their first goal of raising $1 million.
Potential investors have approximately 24 more days to invest as this investment round is scheduled to end April 30, 2021.
"Crowdfunding empowers everyday Americans to invest, alongside wealthy angel investors and venture capitalists, in private companies at great valuations. Now anyone, anywhere, can invest in businesses they believe in like Moxey via WeFunder," said Davis. "The reason we are successful at partnering with over 4,000 businesses is the collaborative power of leveraging each other's strengths and inventory and those businesses actively pursuing aggressive opportunities on the network with other local or regional business owners. We have testimonials from over 90 investors on the WeFunder.com/Moxey website."
"In addition, there are videos, CPA reviews, a new webinar explaining more details, our financial statements, and P&L are all online for anyone to begin due diligence before investing." adds Davis.
Moxey is currently offered in 16 communities across Louisiana, Mississippi, Alabama and Tennessee and is on track to expand into additional states from Texas to North Carolina to help small and medium sized local businesses. Their mission is to help local businesses have a chance against their competitors in a very competitive market, many that have been set back dramatically due to the pandemic.
According to Chip Davis, Moxey's Executive Vice President, "Most companies have two major challenges: new customers and better access to cash flow, regardless of their type of business. We all have expiring inventory and excess capacity that needs to be sold before it is lost. Moxey is best described as a community of small businesses that help each other by providing two core solutions to these challenges within the community: access to an interest-free line of credit and revenue from new customers from within the Moxey community. Our fast-growing, proprietary platform gives small business owners access to an interest-free line of credit while driving new customer acquisition."
"Now more than ever before, small business owners are realizing the value of looking beyond their own survival and joining forces with their friends and neighbors in the local business community. Unprecedented times have created an undeniable need for creative and cooperative business solutions," says Pete Rizzo, Executive Director of the flagship Moxey community in Baton Rouge, PartnersOne.
"Small business owners need a proactive tool to encourage consumers to look their way as they emerge from a year long quarantine. Moxey locks in place local entrepreneurs as loyal recurring clients. The past 14 months have shown us how strong the local business community can be when we all work together. Moxey investors are joining forces in expanding the most innovative and dependable small business growth tool available," explains Rizzo.
Complete financial documents and investing instructions is available via https://wefunder.com/moxey.
Background on Federal Regulation CF Crowdfunding:
On April 5, 2012, President Obama signed the JOBS Act, allowing entrepreneurs to publicly advertise capital raises. On May 16, 2016, four years after the JOBS Act was signed, Title III (Regulation CF) of the JOBS Act went into effect, allowing private early-stage companies to raise money from all Americans.
On Monday, November 2, 2020, the U.S. Securities and Exchange Commission (SEC) voted to adopt proposed changes to the exempt offering framework. According to a
statement
from Chairman Jay Clayton, the changes accomplish three objectives:
Remaining true to proven principles for retrospective review and modernization, improving all three components of our mission: investor protection, capital formation and market integrity;
Addressing the substantial changes in our marketplace, including changes in communications technology and access to capital;
Greatly reducing costs, particularly for smaller and medium-sized businesses as well their investors.
Crowdfunding opportunities were created by the Federal Government in 2012 as a way to let retail investors participate in the hottest startups which were traditionally reserved for only accredited investors.
In 2020 over 350,000 people invested over $214 million in private companies through Regulation crowdfunding platforms like WeFunder.
These substantial changes in the federal SEC regulatory laws now allow for the average person to invest in companies they believe in. Prior to federal law changes, accredited investors were the only ones that could take advantage of serious ROI, and only those with hundreds of thousands of dollars could invest in companies like Google, Facebook, Alibaba, and 2021 advisor picks like Instacart, Bumble, and Nextdoor before they scaled up to offer an IPO on the public stock exchanges.
PHOTO CREDIT Addie Laughery |
Addie's Photos
(left to right) Aimee Supp, VP of Sales & Marketing, Warren Sager, VP of Operations, Chip Davis, Executive VP and Charlie Davis, President/CEO
PRESS RELEASE for IMMEDIATE PUBLICATION APRIL 6, 2021
Media Contact: Aimee Supp
Media@MoxeyUSA.com
407-595-5133