[Press Release] Moxey Announces Appointment of Corey Tisdale, Co-founder of BBQ Guys, to Board of Advisors
Apr 7, 2021
by Aimee Supp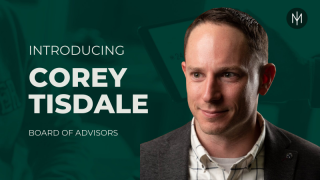 Moxey Announces Appointment of Corey Tisdale, Co-founder of BBQ Guys, to Board of Advisors
Moxey's Announcement April 6, 2021 of Successful Equity Campaign Exceeding $415,000 Ignites New Investors Across Southeast United States Interested in Helping Local Businesses
Baton Rouge, LA – Corey Tisdale, co-founder of BBQGuys, has been appointed to the Moxey Board of Advisors. The announcement was made on Tuesday, April 6, 2021 by Moxey President and CEO Charlie Davis with co-founders and Executive Board Members Chip Davis and Warren Sager.
Moxey is a community of small businesses that help each other by providing two core solutions for local business owners: access to an interest-free line of credit and revenue from new customers from within the Moxey community.
Louisiana native and LSU grad, Corey Tisdale has earned a well-respected reputation as a thought leader in digital market, e-commerce, and technology. As a co-founder of BBQGuys, Tisdale served in a variety of key roles as former COO, CTO, and CEO. He has 21 years of experience in e-commerce and technology. BBQGuys, an online retailer of barbecue grills, smokers, and outdoor kitchen equipment (
No. 345 in the 2020 Digital Commerce 360 Top 1000
), and Blaze Outdoor Products, the fastest growing brand of barbecue grills in the country, were acquired by
Brand Velocity Partners
(BVP) in August of 2020.
Over the last 21 years, BBQGuys and sister company
Blaze Outdoor Grills
were repeatedly listed in the annual Inc. Magazine Top 5000 U.S. businesses and in the top 10 of Best Places to Work by the Baton Rouge Business Report.
Tisdale's appointment to the Moxey Board of Advisors is valuable for future initiatives for growth due to his in-depth experience in e-commerce, technology, marketing, angel investing, management and strategic planning, and financial modeling.
"With the network that Moxey has in place regionally and their successful systematic approach to connecting companies and their owners with capital and resources in a deliberate and collaborative way, the structure is there to grow exponentially. This will help small business owners stabilize and scale up as they are able with more customers and inventories that are making a profit, not liabilities,"
said Tisdale.
"Corey's ability to spot opportunities and plan for the unexpected is incredible" said
President and CEO Charlie Davis.
"We're grateful that Corey has identified Moxey's massive potential and look forward to working with him."
Moxey VP of Operations, Warren Sager
said "Corey brings so much knowledge and practical advice to our team. As we grow our business and scale the best business network we need as many smart capable people that truly understand what we are doing and are passionate about our mission to help small businesses. We are so excited to have Corey as one of our advisors."
Aimee Supp, Moxey VP of Sales & Marketing
added, "Corey's personal business and investment initiatives reflect his passion for driving innovative, high reward and high benefit projects. He is a self proclaimed "helpful guy" and we see the new phase of his life as evidence of that very thing. He spends his time among multiple channels offering his expertise as a consultant, his many philanthropic endeavors and Entrepreneur in Residence at The Idea Village. As Moxey gains traction in up-and-coming markets, Corey's addition to the board comes at no better time."
About Moxey: Moxey is an American financial technology company that operates a digital community currency (the Moxey dollar) that facilitates business-to-business exchange of goods and services. Moxey offers interest free lines of credit to member businesses payable in Moxey dollars. The company is headquartered in Baton Rouge, Louisiana with 16 communities in Louisiana, Mississippi, Alabama and Tennessee.
PRESS RELEASE for IMMEDIATE PUBLICATION APRIL 6, 2021
Media Contact: Aimee Supp
Media@MoxeyUSA.com
407-595-5133