[Press Release] Customers Lead Moxey's New Funding Campaign as Stock Price Doubles
Feb 9, 2022
by Aimee Supp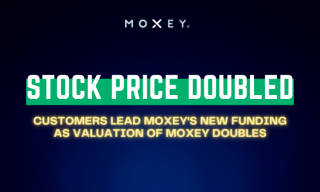 Customers Lead Moxey's New Funding Campaign as Stock Price Doubles
The Valuation of Moxey has Doubled Since its Previous Funding Round
Baton Rouge, LA – Today Moxey announced the launch of a new funding round led by existing customers. Moxey customers have invested another $300,000 to help the Louisiana based FinTech grow.
Moxey has more than 4,000 business members throughout the south with 3,000 of them across Louisiana. It uses a unique community currency to help companies convert their excess capacity into new customers and better cash flow.
The funds from this investment round will be used to expand into new territories and to support growth for existing Moxey communities.
According to Charlie Davis, President and CEO of Moxey, "Today is an exciting day for current and future customers of Moxey. We're honored that our customers have once again stepped up to help Moxey grow across the country. Starting today anyone can invest by visiting WeFunder.com/Moxey."
Equity crowdfunding was created by the Federal Government in 2016 as a way to let retail investors participate in the hottest startups which were traditionally reserved for only accredited investors.
"Investing in businesses that we believe in has never been easier or accessible for literally everyone. Anyone who believes in our mission of helping local businesses thrive or who believes in the possibility of our business model, or frankly who believes in us can support the difference we are making with an investment as little as $100." commented Aimee Supp, VP of Sales & Marketing for Moxey. "The support from our existing customers is inspiring."
Moxey has its goal set to raise up to three million dollars at a $15,200,000 dollar valuation, and shares are priced at $16.75. The next $88,000 that is invested gets a special discounted price of $15.08 per share.
Complete financial documents and investing instructions is available www.Wefunder.com/Moxey
_________________________
About Wefunder: Wefunder is a crowdfunding service which connects startups with investors online. Wefunder uses a provision in the 2012 JOBS Act which allows non accredited investors to purchase equity in early stage private companies.
About Moxey: Moxey is an American financial technology company that operates a digital community currency (the Moxey dollar) that facilitates business-to-business exchange of goods and services. Moxey offers interest free lines of credit to member businesses payable in Moxey dollars. The company is headquartered in Baton Rouge, Louisiana with 16 communities in Louisiana, Mississippi, Alabama and Tennessee. Learn about Moxey's business solutions at MoxeyUSA.com, and follow @MoxeyCommunity on Instagram or @Moxey on LinkedIn and Facebook.
Local business owners interested in increasing their customers, improving their cash flow and can contact Carl for more information at 985-474-9624 or Carl@MoxeyUSA.com.