What's the most underutilized method of attracting new customers?
Feb 15, 2021
by John K Roberts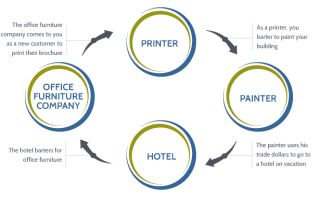 "We need more customers to make this business as successful as we want it to be!" What small business owner hasn't had
that
thought? Then the advertising ideas begin to run through the heads of everyone involved.
Let's update our web page
Let's do paid promotion on social media
Let's join the chamber and network
Let's buy radio ads
Let's rent a billboard
Let's print flyers for all over town!
Then the bookkeeper says, "there's just enough money in the bank to make payroll and pay yourself this week". RUT ROH Shaggy!
As a means of gaining new customers and keeping more cash in the bank
nothing beats bartering your business' goods or services
. Even better, almost every business can afford to barter.
Think about the excess capacity within the overhead of every business.
Could the restaurant have filled four more tables at Thursday lunch?
Could the attorney, accountant or IT service have billed more customers last week?
At the retail store for everything babies, could the salespeople handle more customers Monday?
Did the dentist or chiropractor have available time for more patients?
Did the tangerine farmer have leftover crop that spoiled?
The answer in every case and in the case of your business (because you're reading this article!) is yes, more customers please! Now remember that without more customers all the excess capacity in every business is worth ZERO.
So you're convinced, every business wants more customers, but is bartering going to help?
Most businesses do some sort of paid advertising, as discussed above, to attract more customers, HOPEFULLY. That can get expensive and have unknown success.
Bartering opens a means of attracting more customers only for the cost of the trade, no trade no cost.
Stay with me, we've already established the excess capacity in a business is worth zero. Then, logically if a business can replace zero value with actual value, it should do so by all means.
Let's call this new value barter dollars or B$. In a B2B barter or trade exchange network the members use their B$ to replace cash expenses. The trade exchange lawyer at a table that paid the restaurant 200B$ yesterday at dinner turns into the restaurant calling out the trade plumber to clear a drain and pays him 175B$, all instead of cash. The only cost to the lawyer at the table, the restaurant and the plumber, all likely new customers, would be the trade exchange commission.
A really great example of such a system was covered by CBS Sunday Morning a couple of years ago, take a visit to the Italian island of Sardinia,
here is the link to the interview
.
Admittedly,
not every business is a good candidate for bartering
, realtors, bankers, financial planners and stock brokerages cannot barter under any normal scenario. Also, businesses like gas stations that have extremely thin margins and high demand for cash inventory would have difficulty being in a barter network.
These are the exceptions,
the vast majority of businesses can gain real value and grow their business by joining a business trade exchange
, I can almost guarantee there's one in close proximity to you, big city or small town.
Here's how I would evaluate any trade exchange.
First, keep in mind the exchange is a closed banking system using a community currency and forget about "crypto currency" like bitcoin, it is not that at all. The exchange controls the community currency completely and all the credit and transactions within the exchange are done under a system of trust in each other. Any exchange is only as good as it's members and those in charge of administering it.
Ask direct questions of the person recruiting you to join.
What are the commissions charged and do you pay when you receive B$ or spend or both?
How tightly does the exchange regulate member businesses making sure there's no price gouging?
Does the exchange set credit limits and accumulation limits on its members?
Does the exchange use real time software and allow members to monitor their accounts 24/7?
Were their many mistakes on last year's 1099Bs the exchange issued.
Oh no, that idea about getting new tax free customers just blew up (awwww), you won't be able to skip out on the tax man. The I.R.S. recognizes trade exchange dollars as the equivalent of US dollars and requires participating businesses to be issued a 1099B. You won't mind though, once you've joined the right exchange your business will start to thrive. That P&L will look great, you'll have more new customers and more cash in the bank.
Now let me ask, did I inform you about the most underutilized method of attracting new customers? I'm happy to answer questions, email me.
Happy Bartering!
John Roberts
jkr@moxeyusa.com
There has never been a better time to consider joining your local Moxey community; a trade exchange is always a great resource for businesses.
If you are a small business owner and want an extra edge to strengthen your business, reach out to us HERE to learn more!