Rick Greene celebrates 4 years with Moxey
Oct 27, 2021
by Aimee Supp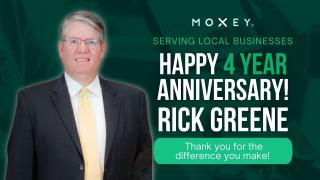 HAPPY ANNIVERSARY RICK GREENE!

Hard Work, Loyalty, and Diligence make the best leaders. Working with someone like you is a matter of utmost pride and gratitude. Your lion-heartedness has set an example for everyone in our organization.

The business owners that you serve are incredible testaments to the difference that you make for local businesses in Northern Louisiana.
Thank you for being a part of the Moxey community.

From Rick Greene:
Today makes 4 years with Moxey NELA. It has been an honor to serve the local businesses of NeLA. Some of the highlights:
Over 2.3 million in volume
Over 26,000 transactions
Over $50,000 to local servers and wait staff in gratuities.

This isn't my job, it's my passion. Moxey helps people, plain and simple. We are connectors. We move the needle. Thank you to the 360+ members(and growing) who have allowed me this honor.

Here is to many more Rick!