Research shows money spent at a local retailer or restaurant, stays in the community
Nov 29, 2020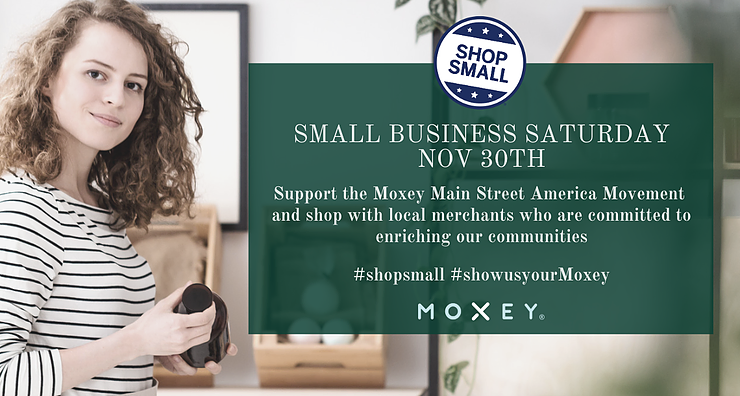 We are in full focus of the holiday season here at Moxey and while the day after Thanksgiving for most involves the Black Friday Sales, we want to remind everyone that Saturday is to remember small businesses when working on your shopping lists! It offers an opportunity to enjoy a stroll down your town's Main Street one day after the hustle bustle of Black Friday.

Small Business Saturday, November 30th, is a day set aside to show support for local small businesses. The day, created in 2010 by American Express, has become a popular way for members of the community to support and celebrate local small businesses. A survey released in 2018 by American Express and NFIB, found that about 67 cents of every dollar spent at a small business remains in the community.

Most of the money you spend at a local small business stays in your community. The small business owners hire your friends and neighbors, and often support local teams and charitable causes.

Small Businesses are pulse of Moxey and the local communities we support. Our purpose is to help small businesses in the United States, currently focusing on the local businesses in the Moxey communities. We love Small Business Saturday and our ethos takes that support one step further.

Moxey exposes local business owners to high value, motivated customers that are committed to the Shop Local Movement. Every dollar that is spent within our community, stays in the local community. In 2019, we have supported over 4000 local businesses in Louisiana, Mississippi, Tennessee and Alabama, generating over 21M in business for those businesses. Our very first community, PartnersOne in Baton Rouge, will be celebrating their 20 anniversary next year. Local Business is in our DNA. We are featuring our Moxey Gift Guide for the first time this holiday season here. We will be adding more local businesses to the gift guide as a further way to promote Small Businesses.

Interested in being a part of The Moxey Main Street Movement? Contact us here and we will reach out to give you more details.