Moxey Offers Alternative to Cash Payments - Binghamton News
Nov 10, 2020
by Steve Seepersaud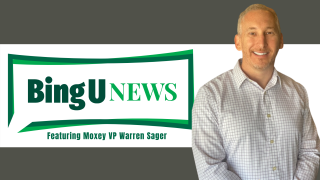 Moxey now has more than 4,000 members in 15 Southeastern locations.
Businesses that are able to survive the COVID-19 pandemic will need a new and more nimble way to operate going forward. Warren Sager '91 and his partners at Moxey believe their national network of barter communities is the solution.
A forward-thinking entrepreneur, Sager connected with a local barter community in Baton Rouge, LA, nearly 20 years ago. Not only did he see benefit to participating in the network, he saw its growth potential and became an investor.
Today, Moxey is active in 15 Southeastern communities with more than 4,000 members. As of last year, Moxey had processed more than $100 million in transactional volume, making money through commissions.
"This is only the tip of the iceberg," Sager says. "Moxey might be the most significant new tool to emerge in the small-business community in our lifetime."
Moxey does two main things for local businesses: helps get new, high-value, recurring customers and improves their valuable cash flow.
Here's how it works: When Business A joins the Moxey network, it instantly receives an interest-free credit line. "Day-one buying power has always been a selling point in our communities, but it has never been more valuable than it is now," Sager says.
If Business A, in its first Moxey transaction, purchases $500 of goods and services from another member of the network, the account balance becomes –$500, with the expectation that Business A will make future sales to cross the break-even point and hopefully be on the plus side. The network's managers and brokers leap into action, designing ads and promoting Business A to others in the network. This helps generate sales that move Business A's Moxey account balance into the black.
"Moxey is responsive to the needs of the small-business community," Sager says. "You can use it on anything: printers, restaurants, mechanics, graphic designers, painters, you name it. What's awesome is that once businesses join Moxey, they love it and they always try to spend their Moxey dollars over cash."
Businesses can also use Moxey to work together and give each other supplies and services they need to ensure survival when cash is tight.
"There was certainly a time when business owners were leery of signing up to trade away their products," Sager says. "The concept was foreign and the learning curve was long. That time has certainly passed. Business owners today must be adventurous and agile."
View original article
HERE