How Moxey Works for Restaurants
Dec 28, 2020
by Aimee Supp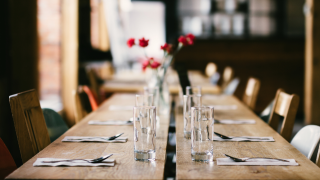 What is the value of that one empty table in your restaurant?
The restaurant industry is one of the most competitive industries in the marketplace. It is an industry that can benefit from leveraging what they have, empty tables, to get what they need in every moment.
As a Moxey member, restaurants can add the proven strategy and the powerful marketing tools that Moxey provides to bring the restaurant new customers. These customers will be filling empty tables, allowing the restaurant owners the opportunity to maximize their resources and capture a larger audience.
One empty table in a restaurant doesn't "cost" anything more beyond overhead if there isn't anyone to fill it. However, the missed opportunity that empty table leaves every day adds up to a lot of missed revenue over time.
Let's dive into that a little more: A restaurant is open all year for dinner and can turn over that table at least 2 times in an evening.
Their average ticket for that table for 2 is $50.00 with that table being sat at least two times per evening. Total average revenue for that table per night is $100.00. The restaurant is open 6 nights per week $600.00.
That ONE empty table is a missed opportunity of $31,200 in revenue.
What could you do with an extra 10,000-30,000 in additional revenue? Upgrade your menus? Bonus your staff? Advertise your business? Expand your catering business?
The possibilities are endless! Instead of spending cash on your common overhead expenses such as advertising & marketing, printing, uniforms, building & property maintenance, and employee incentives you can now utilize your new Moxey revenue and use your saved cash to upgrade, expansion, employee benefits and bonuses, etc…. or to put in your pocket!
Many business owners incentivize their employees with Moxey Gift Cards and restaurants are one of the top places where they redeem them - creating another stream of new customers connected to more people that will learn about your business and likely share their experience with their friends.
Our system may not be able to fill that table every evening (many days it will fill many more!), but we have a proven track record with many great success stories.
LA DIVINA ITALIAN CAFE
, Baton Rouge
LANCE & MARY LEBLANC, Owners
"It is great to be aligned with other local business owners. We send business their way. The camaraderie that we have with the other members is really amazing." View full testimonial
HERE
LIGHTHOUSE COFFEE
, Baton Rouge
STEVE & AMBER ELWORTH, Owners
"Through Moxey, I get to learn about new businesses while they are learning about my business. Not only does Moxey help your business, but you are able to help other small businesses with the use of Moxey." View full testimonial
HERE
Let the power of the Moxey community work to fill those empty tables by minimizing missed opportunities and maximize your potential! Call us today to speak with one of our exceptional community leaders how Moxey can help your business thrive!"
There has never been a better time to consider joining your local Moxey community; a trade exchange is always a great resource for businesses.
If you are a small business owner and want an extra edge to strengthen your business, reach out to us HERE to learn more!