How Moxey Works for Home & Commercial Services
Oct 12, 2020
by Aimee Supp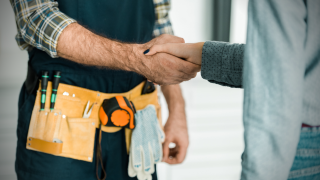 What happens with those unused appointments in your company's schedule?
Whether you are in painting, plumbing, electrical, janitorial services, roofing, remodeling, lawn care, asphalt paving, pest control, construction or any other service industry,
your challenge is keeping your schedule full and generating income.
Moxey recognizes the idle time is lost revenue. Moxey fills the empty times in your schedule with new customers.
As a Moxey member,
our team will work with you to assist you in generating steady income for your business utilizing the resources barter provides;
new sales, turning excess time into billable hours, keeping your staff busy and more productive, while conserving your cash and improving your bottom line.
In many industries, if you are not keeping your employees time booked, you run the risk of losing them.
There is no need to pay high costs for good referrals. Moxey will promote your business and send you quality leads. Fill empty time in your schedule with high value customers who are business owners, just like you. This is the Moxey community.
Instead of spending cash on your common overhead expenses such as advertising & marketing, printing, uniforms, building & property maintenance and employee incentives you can now utilize your new trade revenue (Moxey dollars) and keep your most valuable resource – cash – in the bank.
HIGGINS ELECTRIC Memphis, TN
BO HIGGINS, Owner
We use about 80% of the members' services in the Moxey Community in Memphis. And then, about 90% probably use us. Moxey is a great community full of friends, families, and local businesses. View full testimonial
HERE
EXPERT WINDOW CLEANING Baton Rouge, LA
EVAN PYLE, Owner
"Having minimal turnover in my staff is very important and it is crucial that I provide that steady work flow for my employees. PartnersOne | Moxey has given me a resource to fill slow times in my business." View full testimonial
HERE
PREMIER PEST CONTROL Baton Rouge, LA
MATT KIMBROUGH, Vice President
Some of the many benefits of Partners One | Moxey is only having to use a small portion of your cash, the amount of new business that you get, and the networking that comes with it. View full testimonial
HERE
Let the power of the Moxey community work to send you new customers, minimize missed opportunities, and maximize your potential!
There has never been a better time to consider joining your local Moxey community.
If you are a small business owner and want an extra edge to strengthen your business, reach out to us
HERE
to learn more or call us today to speak with one of our exceptional community leaders about how Moxey can help your business thrive!